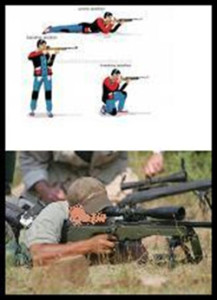 This course is great for beginning rifle shooters of all ages(18 and over, unless accompanied by parent) It explains the basic fundamentals to shooting a rifle acurately and safely. The NRA certified Basic Rifle marksmanship course covers these basic rifle topics. Then we take you through some tactical out of RHINO criteria drills and exercises. This is not your standard NRA class. Some of the things we cover in class are:
The Five rifle shooting fundamentals
Breathe control
The 4 Basic shooting positions and how to get the most accuracy and attaining consistency with each:
*Standing
*Kneeling
* Prone
*Sitting
Dry fire drills
Live fire drills
Using a sling to maximize accuracy
Marksmanship
Choosing and buying a particular type of rifle that best fits you and your shooting needs.
Choosing the correct ammo
The different rifle parts and how they work.
Courses of fire includes stagnant marksmanship live fire and dry fire drills only, and intro to advancing and retreating on targets to better aid the student to effectively learn how to use their chosen firearm platform. All drills are preliminary drills and prerequisites for intermediate Rhino Tactical rifle class.
****Students are required to bring desired rifle and 300 rounds of ammo****. Eye and ear protection is mandatory. Marlin 22 caliber Rifles are available for rent, however students are highly encouraged to bring their own rifle(22, 223, 38/357, 40, 44-40, 45 long colt … Cowboy caliber) (yes, students may bring handgun caliber rifles as already mentioned)
Students bringing their own rifles ,must only bring California approved and legal rifles.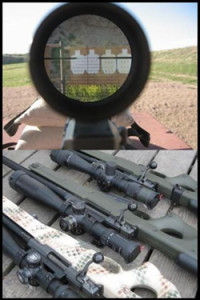 Rhino Tactical Intermediate Tactical Rifle class will progress and expand upon what was learned in the Beginning marksmanship Rifle class, offering a more dynamic approach to practice and cadence of live fire drills. Students applying for class must have already taken the basic Rhino NRA certified Rifle class. In this intermediate Rhino Tactical Rifle class, we will expand on shooting from all the positions on close and far courses of fire. This Rifle course will also include several dynamic intermediate stagnant techniques which include:
Standing Barricade shooting
Kneeling Barricade shooting
Dynamic prone barricade shooting
Dynamic shot set up, how to get into position smoothly and efficiently
Breathing while under stress
Shooting around vehicles
Ricocheting shot principle "if thats the only shot available especially around vehicles" as a LAST RESORT.
Reloading, Speed and Tactical
Steel courses of fire , short range
Steel courses of fire, Long range
Touching the shot off with a controlled breathe pattern.
Moving and shooting basic theories
Target acquisition exercises
Approaching a doorway, the fatal funnel, shot set up
Basic room clearing strategy..Segmenting a room
This course is designed to further enhance the student's ability with a rifle and (for those wishing to continue training) to prepare the student for the Rhino Tactical Advanced Tactical Rifle course.*** Students are required to bring their own rifle as well as 300 rounds of ammunition**** Knee and elbow pads are also required. Eye and ear protection mandatory.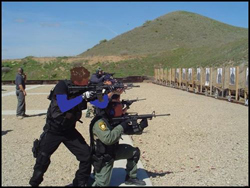 In this advanced tactical Rifle class we will further expand on what was covered in the Intermediate tactical Rifle class. Students will experience a wide diversity of varied drills and courses of fire.Students are required to have taken the Intermediate tactical rifle class before advancing to this course. Students will also experience a bit of Man on Man, CQB drills to see what happens under stress. This is the bread and butter of Tactical Rifle. Students will receive dynamic training while approaching several theories and physical challenges designed to take their rifle shooting skills to a higher and consistent level. The Rhino Tactical, Advanced Tactical rifle class will include:
Moving and shooting
Approaching and moving into a barricade
Approaching and moving into a doorway
The fatal funnel theory expanded
Segmenting or Pieing a room
Room clearing exercises
Negotiating intersections
Negotiating hallways
Negotiating room corners
Window and peepholes theories
Steel courses
Hostage courses
Kill house courses
The heart and Complex motor skills while under stress, and what a better way to see this theory while under actual crisis shooting stress.
Man on Man exercises
Force on force exercises
CQB theory
Actual live combat using airsoft advanced weaponry designed to enhance judgment and decision making skills while under stress
Flight or fight syndrome and when to do each objectively.
Brief explanation of degradation of fine and complex motor skills under stress, and how to control this degradation.
Students will experience a wide variety of courses and exercises designed to push their heart rates to a controllable limit. Students will also learn the secrets of controlling themselves while under "fire stress"  and how to practice this at home without any weapon whatsoever. *****Students are required to bring at least 300 rounds of Ammo and at least 3 magazines in the caliber of their rifle choice***** Students are also required to bring eye and ear protection as well as knee and elbow pads. Goggles and a full face mask are also required at this course for the airsoft  portion. As goggles are a personal matter, Rt Tactical cannot provide these as they are of personal preference and hygiene. We will however provide a list of inexpensive and effective face mask and goggle systems available at any Walmart, Kmart, or Big 5 sporting goods stores.