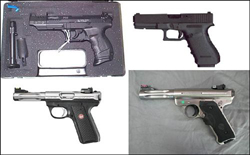 The Tier 1 Basic Pistol Manipulations, Tactical Movement, and Tactical Marksmanship fundamentals course covers these basic pistol topics, and is formulated with Southern California agencies in mind, to better help future police cadets. This is not your typical NRA beginner pistol course. We take the NRA course and meld it together with Rhino Tactical's criteria to create a truly Beginner Dynamic Tactical Pistol course.
4 universal Firearms safety rules
Safety role playing situations/ safe chamber checking/ muzzle direction awareness
Range safety commands and procedures /emergency procedures
Different gun types IE.
* Single action
* Single action semi automatics
* Double action
* Double action semi automatics
7 Key elements of a stable and effective shooting platform
Weaver vs Isosceles
Basic handgun Dry Firing drills
Malfunction drills
Muscle memory and NPA drills
The importance of dry fire training exercises
Responsibilities of a firearms owner
Introduction to elements of shooting accurately and safely while moving through a shooting course designed to be shot while moving constantly.
Courses of fire includes stagnant marksmanship live fire and dry fire drills only, to better aid the student to effectively learn how to use their chosen firearm platform and weapon, and are preliminary drills and pre-requisites for intermediate Rhino Tactical pistol class.
Students are required to bring desired pistol and 400 rounds of ammo. Eye and ear protection is mandatory. Several different rental firearms are available for rental(subject to availability) , however students are highly encouraged to bring their own pistol and their own ammo especially with the ever changing ammo laws. (no high power calibers (22, 38, 9mm, 40,and 45 are acceptable)
Rhino Tactical Intermediate Tactical Pistol class Tier 1 (of 4)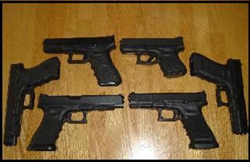 Rhino Tactical Tier 1 Intermediate Tactical Pistol class will progress and expand upon what was learned in the Beginning Pistol class, offering a more dynamic approach to practice and cadence of live fire drills. This course serves as a gateway between our intermediate and our advanced pistol course touching on many of  the class principles that students will refine in the advanced Pistol class. Students in this intermediate class, will learn how to shoot from the holster throughout a variation of stagnant, and moving  live and dry fire drills which will encompass:
Mindset of a warrior
Drawing from retention in stages
Drawing and transferring to weak hand
Safe re-holstering
Drawing from concealment
Cadence, smoothness and timing drills
Advanced Dry Firing drills
Mag Reloading, breaking the reload down into stages .
Basic Theory and execution of 180 &90 degree pivots and transitions.
Basic theory Kneeling, kneeling Barricades, Prone shooting
Advancing and retreating drills.
Working the standing Barricade, left and right side
Weak-side shooting
Malfunction drills
Stress under time, and intro discussion on the affects of stress on the complex motor skills.
Students are required to bring their choice of pistols as well as 500 rounds.(revolvers ok!) Acceptable calibers are 38, 9mm, 40, 45.  Minimum 2 magazines in your caliber. Eye and ear protection is mandatory. Students are also required to wear long pants and baseball caps to avoid scrapes and burns from ejected brass. Knee and Elbow pads are also acceptable and encouraged. Class is an all day class so bring plenty of fluids.
Rhino Tactical Advanced Tactical and Practical Combat Pistol Class Tier 1 (of 4)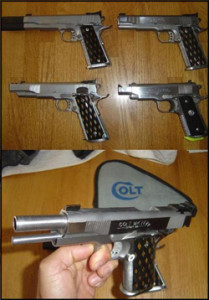 Rhino Tactical Advanced Tactical and Practical Combat Pistol Class Tier 1. We will dive into efficient combat shooting from a wide range of dynamic positions. Students are required to have taken the Intermediate Rhino tactical Pistol class as a pre-requisite. Rhino Tactical will guide the student through a series of highly energized, aggressive and defensive movement oriented courses of fire that are designed to enhance the students reactive/responsive skills to targets and target acquisition under varied conditions and situations. This course is a fantastic course as a warm up for our Inside or Outside the home defense classes. The dynamic discussions and courses will include:
Advanced Understanding and theories on training mentality of a warrior and how to practice at home or on the range to become a highly efficient and accurate defensive and aggressive combat shooter.
Elemental shooting review
Controlling and monitoring the breathing
Heart rate and effects of stress, using stress as a trigger to relax.
Awareness levels
Gross, Fine and complex motor skills in regards to shooting.
Reactionary shooting versus Responsive shooting.
High Speed Flash sight picture /advanced point shooting
Advanced Shooting on the move: advancing and retreating Courses
Advanced Tactical walk / shuffle step  live fire exercises
Advanced weak side shooting refined
Reloading behind cover
Reloads; Tactical And Tactical with retention: the differences…..and applying speed reloads under stress- Speed focus point reloads. Advanced strong/weak hand Injury reloads.
Advanced Malfunction drills refined
Defensive center mass marksmanship and marksmanship Steel plate shooting
Extended range shooting refined
Coming into a barricade/entrances and exits/advancing and tactically relocating.
Advanced pivoting and shooting
Advanced Kneeling theories kneeling behind cover.(Rhino power lunge)
Advanced prone and prone behind cover theories and practices.
Dry fire practice techniques and strategies refined
Physical fitness and its role in shooting and awareness refined
This course requires 500 rounds of ammunition. The student must also wear long pants and have a baseball cap as well as well as mandatory eye and ear protection. At least 4 magazines are also required. Students must bring their own pistols and be of 38,9mm,40, 0r 45 calibers. Revolvers ok!!
Rhino Tactical higher Training Tiers will be posted individually