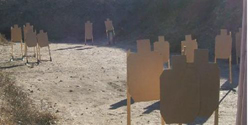 Interested in applying some of the principles of handguns to actual competitive use? Then this is the training course for you. Rhino Tactical will cover all the basics to becoming proficient in competition with all the following topics covered for both IDPA and IPSC competitive shooting.
IPSC and IDPA the differences
Different divisions in IDPA and IPSC
Scoring and penalties
Power factors and what they mean
Different division required pistols and equipment
Target types and courses of fire
Timers and safety officers
Range procedure, range commands
Classification system
Course types of IDPA and IPSC
After taking this class the shooting enthusiast will be able to feel well versed in how to shoot both types of competition and what is expected of them to have a successful and stress free competetive shooting day. This course provides an easily understandable while friendly environment to learn the basics and make the transition from enthusiast to competitor. All aspects of both types of competetive shooting will be covered. Students are required to have eye and ear protection while on the range. Rental guns are available for a small fee. Students should bring 350 rounds of ammo in the caliber of their choice.