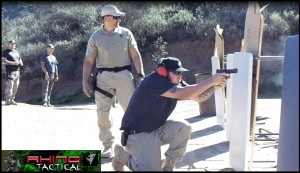 Hello and welcome to the Rhino Tactical training web site. As an NRA Certified Instructor and Lead Rhino Tactical Instructor, Jimmy "RHINO" Flores holds certified NRA credentials in all 6 Defensive and Safety disciplines. He holds many  recent and former local and distant USPSA division and overall titles as a Grand Master Tactical competitor and former SASS champion. Over the last twenty years, he has trained with many military personnel, police agencies, Private sector security companies, and private citizens in BOTH defensive real life tactical shooting (his training real love) and for those who would like the sporting side of it; competition shooting. Jimmy is currently ranked as an IPSC (Glock) Grandmaster and holds 5 Grandmaster cards in Limited, Limited 10, Production, Single Stack and Open divisions.  He is also a Master in IDPA (Defense Pistol) SSP (Stock Service Pistol),  ESP (Enhanced Service Pistol) and CDP (custom Defensive Pistol) classes. Throughout his 28 plus years of competitive shooting and training, Jimmy has won many local and distant championships. Most notably he took the IDPA triple crown at Southern California's IDPA Regional Championships match of 2013 sweeping the victory platform in the ESP Master class, Police, and Industry divisions as well as winning the High overall and Division champion by over 20 seconds. Jimmy is also an avid 3 gunner competing nationally and locally in 3 Gun Nation and Championship USPSA 3 gun events. If not winning the overall, Jimmy always places in the top 10 at any match no matter how large or how small and is an extremely consistent 3 gunner. Just as he is a Grandmaster in pistol shooting, he and his team are equally dedicated to the science of speed and high precision use of all rifles and shotguns for defense and competition.
Jimmy, has competed and trained with many of today's pro circuit shooters including Taran Butler.  (Jimmy's  friend, training partner and 3 gun competition WORLD CHAMPION) During this time, Jimmy and Taran were the first California shooters to earn Grandmaster cards shooting only standard Glock 40 S and W- Major pistols in the early 90s within a few months of trying the guns out and before any of today's top Glock shooters were even training!!!  Jimmy and Taran were really the fore fathers of today's modern glock shooters bringing prestige and total domination to the early Glock IPSC and IDPA circuit. Shooting for several sponsors including Glockworx and Taran Tactical Innovations, Jimmy brings a refreshing and critical view on the mental and physical  aspects of shooting for sport and profession. Rhino Tactical offers extensive training clinics for beginners to the highly advanced shooter at shooting facilities and private ranges located in the San Fernando and Santa Clarita area. With over 40 years combined instructor's experience, Rhino Tactical instructors have trained over 4600+ private citizens, Police and Military personnel in the use of small arm (Rifles, Pistols, and Shotguns) weapons and tactics. Rhino Tactical also serves the Movie and Television studios as Prop weapon fabricators and Weapons and Tactics advisors for entertainment projects that involve the use of small arms, police tactical protocol, and firefight choreography organization. Jimmy also serves as a fully sworn Southern California Reserve Officer in his spare time and he is a recipient of the elite Distinguished Expert Police shooting medal of which only 49 of 10,000 officers are awarded. On the Hollywood side as mentioned previously, Jimmy was also a pro shooting consultant and shooting expert on "Top Shot" Season 1 and 2. During this filming and shooting consultation, he did many of the high speed plate, 3 shot glass, whiskey bottle, egg breaking and slow motion trick shots seen on the popular close up portions of the show, while also being featured in the background as a exhibition shooter on quick clips.
At Rhino Tactical we pride ourselves in teaching each shooter the fascinating actual science of shooting while attaining efficient life saving accuracy in all movements both stagnant and non stagnant. Even our beginning (in any type small arm) students can attest that they are able to tactically walk and shoot (accurately and safely) at the end of their first basic class!!!! Some students can even run and gun (safely!!)  by the end of their first class!!! Our fun and straight forward while efficient and professional training will propel your shooting faster than other schools can possibly offer you. All Rhino Tactical classes are stocked full of criteria above what other programs and schools offer at a better and more reasonable tuition fee!. For example, what other intermediate schools offer criteria wise, is what our beginning classe's criteria will also cover and WILL have you shooting like by the end of the beginner day guaranteed!! This applies for all Rhino Tactical Classes because we offer levels that are more diverse and easy to understand in criteria which in turn, help the student learn and retain more in a shorter amount of time. Our detailed listing of subjects covered for each class is only a glimpse of the actual criteria that will be covered. We do this to keep our classes somewhat of a secret from competitors who want to copy and paste our re-known criterias. We have seen competitors in this field do that and we will take that as a compliment !!!!! So come have some tactical fun at Rhino Tactical while learning to shoot fast, accurate, and above all safely!
Feel free to browse through our highly detailed training web site to find a class that is right for you. Rhino Tactical's classes are always full so because of shear numbers, we can charge an affordable rate to trainees for top quality firearms instruction. Unlike other academies where you are stuck there for days, we offer 1 day highly affordable training courses so people can absorb knowledge and fit training (in any level) into their very busy schedules. All  prices are quoted (per person) for private group classes up to 10 trainees (minimum 4 per private group). We also provide private individual classes tailored to individual trainee's requests as well. Private individual class price will vary slightly and can be quoted individually depending on what type of class and training regiment the private individual trainee requires. Occasionally we do host open classes. These open enrollment classes are also limited to ten students per class, and subject to availability of private training staff. All students welcome (18 years  or older, younger than 18 must be accompanied by participating parent). All Rhino Tactical private classes (Personal-one on one, or Group sessions) are ALL DAY 9 A.M.- 4 P.M. class/training camps with some rest time for lunch, so students are encouraged to please bring a lunch and plenty of fluids. Be prepared to experience something that will not only make you a better shooter but a much stronger and confident person.
From the most serious professional to most casual individual, everyone can always learn something!!! Treat yourself, friends or your family to a day or days of small arms tactical and educational fun! ………..GO RHINO!  – Don't forget to check out our YouTube channel under Rhino Tactical for over 40 videos loaded with tips and tricks to tactical combat shotgun, combat pistol and combat rifle and a partial look into our tactical class criterias.
FYI: We do not train anyone who has, is doing so, or will denounce or possibly harm the United States of America and its citizens and visitors in any way shape or form. You will be checked out (background checks) and if you are of a questionable nature you will not be able to train here at Rhino Tactical, Sorry, God Bless America! We don't need your money no matter how much is offered, its not about that. We train those that are truly interested in preserving and passing on to their friends and loved ones the rights, privileges, and freedoms that we so dearly hold onto here in our country of the Good ol USA! In God we trust!